9-Night Trip
on
Silver Muse
Alaska's Inside Passage - Southbound
Small Ship Cruising

Alaska's Inside Passage - Southbound

Cruise through Alaska's legendary Inside Passage aboard Silversea's Silver Muse, surrounded by some of the most dramatic and wildlife-rich scenery on Earth; a perfect combination of natural and cultural history... Be at one with nature as you cruise the Inside Passage, surrounded by some of the most dramatic and wildlife-rich scenery on Earth – a cruise that is a perfect combination of natural and cultural history. Snow-crowned mountains, glacier-carved fjords, and lush green rainforests contribute to the feeling of being both uplifted and humbled by larger-than-life wilderness as far as the eye can see. There is always the possibility for wildlife spotting – humpback whales, eagles, orcas, harbour seals – and perhaps puffins, sea otters, the ever-elusive bears or the ever-moving salmon. Life under the sea reigns supreme while on the sea, fjords strewn with glacier chunks appear in shades of blue and white. When you cruise through the Inside Passage, you'll soon understand why Alaska's state flower is the forget-me-not – because once experienced, this majestic state and its unique treasure trove of wildlife, landscapes, and rich multicultural heritage are truly unforgettable. Travel through awe-inspiring ice-capped waters and enjoy a choice of shore excursions on land, all included, to discover Alaska your way. Kayak to Eagle Island – take a scenic rail journey and streetcar tour – meet both musher and dogs on a sled dog experience – go on a wilderness safari in Glacier Point by boat, canoe, and a one-mile hike – explore a Gold Rush city to glean its historic past, a traditional Tlingit village to learn about its heritage, and the fishing town of Sitka to glean past and present. Alaska's Inside Passage – truly unlike anywhere else on the planet.
June 07, 2023
through
June 16, 2023
Book by:
June 03, 2023 7:00 PM
Itinerary Map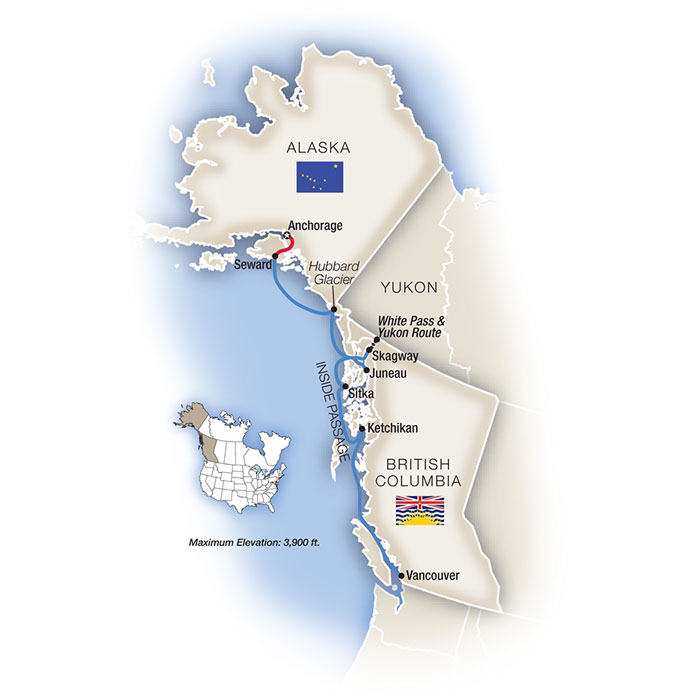 Loading Itinerary Content...
Additional
Offers
Inside
Outside
Balcony
Suite

June 07, 2023

to

June 16, 2023

June 21, 2023

to

June 30, 2023

July 05, 2023

to

July 14, 2023

July 19, 2023

to

July 28, 2023

August 02, 2023

to

August 11, 2023

August 16, 2023

to

August 25, 2023
Award-winning Silver Muse has all the hallmarks of extreme luxury at sea. With one of the highest space-to-guest ratios at sea, Silver Muse is a firm favorite in the Silversea fleet. Authentic experiences. Simple pleasures. Shared moments.

Silver Muse embodies Silversea's essence – spacious suites and superior service – paired with a lively cosmopolitan atmosphere and enhanced amenities. Onboard amenities include fine wines and creative cuisine in a selection of restaurants – savor fine wines and French gastronomy in La Dame, enjoy authentic Italian cuisine in La Terrazza, the elegant bar and grill experience at Atlantide, Asian-accented culinary discoveries at Indochine, Japanese artistry at Kaiseki, the celebration of Silversea's Italian heritage at Spaccanapoli, small plate tapas at Silver Note – or simply gazing at the endless ocean views from The Grill – dining at sea has never been so good. Energize body and soul with complimentary Pilates and yoga in the expanded fitness center, take a lap around the Jogging Track, enjoy the chaise lounges arranged in the sun or shade, bubbling whirlpools – and the pool water refreshing in warmer climates, heated for cooler weather. The Connoisseur's Corner offers exceptional cognacs along with a premium selection of cigars for purchase; in The Venetian Lounge, applaud a broad spectrum of musical and theatre entertainment — from full-scale production shows and classical soloists, to cultural entertainment and feature films. Zagara Beauty Spa invites you to indulge in a luxurious spa treatment – facials, body wraps, massages – the spa is the perfect place to unwind. And for leisure, try your luck at the onboard casino; and relax and unwind in the Observation Lounge, the Panorama Lounge or The Bar.
Cruising Speed
19.8 knots
Deck plans are not yet available
About Tauck
We're a company, and a family, of passionate travelers. As a family-owned travel company for over 97 years, our values and vision remain true: always do the right thing. Deliver more than what's expected. With journeys across 7 continents, in over 100 destinations and to 70+ countries, we keep moving forward to find new ways to enhance travel experiences that will be memorable for a lifetime – and we're honored to have the trust and guest satisfaction to be named to Travel + Leisure's "World's Best" list for 24 consecutive years. We invite you to see the world as you've never seen it before.